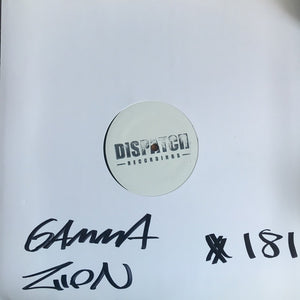 Gamma
The Zion EP
Format: 12" Vinyl
Label: Dispatch Recordings
Cat No: DIS087
Returning for our first release of 2015, we proudly to welcome Gamma back to Dispatch for his first Dispatch EP as a solo artist.
Having previously released on the label as part of the Spinline trio, Gamma brought the incredible "If U Go Away" to our Transit 2 compilation album and we knew it was only a matter of time before he would be back for a full release.

Taking us into the New Year, the Zion EP is comprised of five tracks that delve deep into the senses, remaining pensive, yet always hard hitting.

Title track 'Zion' sets the scene dramatically, with half time beats shuffling over subterranean low ends. Collaborating with Dispatch favourite Hydro, '3 Dayz' follows on, raising the energy levels with suave overlapping bass grooves.
'Streetheadz' comes next, a percussive assault on the dancefloor, with strong support so far. 'Midnight Heat' contrasts the elements expertly, with sultry pads and soft vocals met by dark, growling mids and sharp stepping drum work
"Empathy Control" closes the EP with a slice of pure robotic funk, with a refined bassline cutting below jittering mechanic entities. Support on this release comes from Icicle, Kasra & DLR
---
More from this collection