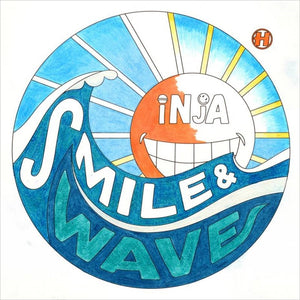 Inja
Smile & Wave
Format: 12" Vinyl
Label: Hospital Records
Cat No: NHS42LP
With the biggest smile on his face, the lyricist, vocalist, poet, artist and storyteller delivers 16 tracks, seamlessly weaved together through Inja's infectiously feel-good flow and sincere wordsmithery. The entire album was produced by Whiney, further cementing their relationship as one of the most untestable dance music pairings. Also featuring Charlotte Haining, Eva Lazarus, DRS, Fox, Cleveland Watkiss, Singing Fats, and DJ Marky. Album title track 'Smile & Wave' is the musical embodiment of Inja's playful demeanour.
Known for being the world's smiliest artist, Inja wrote and recorded this feel-good bouncer alongside his daughter who is "pretty much the first person to hear anything" he's up to musically. Expect a rude bassline and infectious wordplay.
Released: 30 July 2020
Tracklist
1. "Ain't Nobody"
2. "Reach Out (Feat. Charlotte Haining)"
3. "Smile & Wave"
4. "Listen Up"
5. "Sanctuary"
6. "Pressure (Feat. Cleveland Watkiss)"
7. "Underdog (Feat. DJ Marky)"
8. "Piano Skit"
9. "Baby Angel Face (Feat. Eva Lazarus)"
10. "Explode"
11. "Soul Silhouette (Feat. Singing Fats)"
12. "Hands, Lights, Flames, Phones (Feat. Fox & DRS)"
13. "Problem Skit"
14. "Take Me Home"
15. "Stranger"
16. "Smile More"
---
More from this collection